AG-Immune Body Wise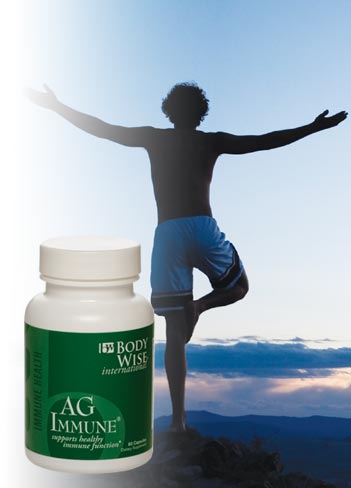 Supporting your immune system — that complicated network of cells and biochemicals that act as a defense system for your body – is one of the most important things you can do for your health. AG–Immune is an exclusive, groundbreaking formulation designed to support optimal immune health.
Infused with three herbs known to support and strengthen the immune system, the formula stands as the culmination of many years of research and development
Key Ingredients
Arabinogalactan – Provides complex polysaccharides, which help stimulate the activity of some of the most powerful types of immune cells.
Ai/E10 whey extract – Studies show this extract supports natural killer (NK) cell function, which is important in maintaining a strong immune system.
Astragalus – Traditionally used for a variety of health conditions such as low resistance, lack of vitality and the effects of stress, medical journals suggest this herb may stimulate the immune system and improve the body's natural defenses.
Maitake mushroom – Prized in Asia for centuries, maitake contains TD–fraction, a complex of protein–bound polysaccharides that stimulate a variety of immune functions; Maitake is also rich in grifolan, an important beta–glucan polysaccharide that' s been shown to activate macrophages, which are considered the "heavy duty" cells of the immune system.
Head Office - Canada
Agri-Growth International Inc.
18024 - 107 Avenue
Edmonton, Alberta
T5S 2J5
CANADA
Phone: 780-484-0102
Fax: 780-484-1632
Monday - Friday 9am - 4pm
Contact us for more information!