DetoxMax Plus / Chelation
DetoxMax Plus not registered and not sold in Canada
Manufactured in U.S.A.
Exported around the world
For A Healthy Heart
ORAL DetoxMax PLUS™ concentrate is a combination of EDTA and EPL in a new innovative delivery system. This new delivery system is taken orally and enhances the transport of DetoxMax™ through the intestinal wall barrier, blood/cell and blood/brain barriers. This process successfully eliminates the possibility of diarrhea and greatly increases the efficiency of the product.
Proven Benefits of EDTA
EDTA has been primarily used to detoxify the body of heavy metals and is commonly known and used for clearing the cardiovascular system. Until now EDTA has required intravenous (IV infusions) for as long as 3 hours, two or three times per week.
Clinical Studies On EPL Prove Numerous Health Benefits
Essential phospholipids (EPL) taken intravenously have shown multiple cardiovascular benefits. Over 100 human clinical trials in Europe and the USA have been performed and determined the following results.
Lowers mean total serum cholesterol by 12% to 25%
Decreases LDL (bad cholesterol) by 34%
Increases HDL (good cholesterol) by 50% to 100%
Substantially lowers cardiovascular risk ratio
Increases peripheral and brain circulation
Decreases reactive platelet aggregation by 60% in patients with angina pectoris
Increases fluidity of red blood cell membranes
Decreases angina (chest pain) and can help eliminate chest pain attacks
Increases exercise tolerance by 900% with angina prone patients
The Unique Characteristics of Detoxmax™ Plus Concentrate
A combination of a proprietory blend of essential phospholipid (EPL) and EDTA, is taken orally in an exclusive micro-encapsulation process with microspheres and transports the product through absorption, and delivers numerous cardiovascular and circulatory benefits. This unique EPL microsphere encapsulation prevents mobilization of heavy metals into the brain.
The Essential Phospholipid (EPL) Microsphere EDTA System
It supplies microsphere encapsulated droplets of disodium EDTA in an essential phospholipid (EPL) delivery system with no diarrhea symptoms and extremely high gastrointestinal assimilation to circulating bloodstream.
There is a slow release of EDTA systematically over a 48 hour + time duration, greatly decreasing the possibility of overloading kidneys with heavy metal toxicity.
It produces "True" plasma soluble ion exchange properties; thereby minimizing beneficial mineral excretion via a unique delivery system.
Ingredients of Detoxmax Plus™ | 2 fl. oz. Bottle
Each fluid ounce contains:
75 gm Lecithin (Phosphotydil Choline 76%)
500 mg of Disodium EDTA
75 mg of Magnesium Chloride, (beneficial for healthy cardiovascular functions)
50 mg of Alpha Lipoic Acid (New Addition)
Dosage Information
Suggested Use:
Use as a dietary supplement, thoroughly mix 1 fluid ounce (½ bottle) into 8 fl. oz. juice (cranberry or pineapple juice) every other day at night before bedtime or as directed by your healthcare professional.
Detoxmax™ Pilot Study
Conducted by Daniel Dugi MD and Sir Arnold Takemoto. The purpose of this study was to prove the safety and effectiveness of using disodium EDTA orally in an essential phospholipid (EPL) microsphere delivery system effectively bringing the intestinal barrier for systematic heavy metal detoxification. This pilot study was performed in 2001 with 16 patients.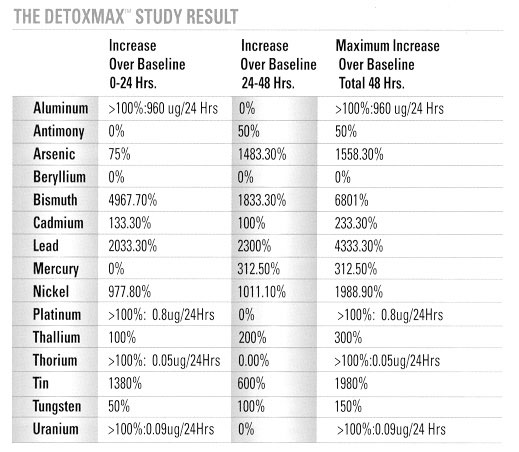 The Significant Effects of Using Detoxmax Plus™ Are:
Helps lower the following conditions:
Cholesterol
Triglycerides
LDL ("Bad cholesterol")
LP(a)
Soluble Fibrin
Toxic heavy metals in body and brain
Thickness of blood, makes blood more fluid
Helps increase the following conditions:
HDL ("Good cholesterol")
Brain circulation
Heart circulation
Peripheral circulation
Helps repair the following conditions:
Damaged liver
Damaged coronary arteries
Damaged blood vessels: arteries, veins, capillaries
Damaged brain circulation
Injured tendons, ligaments and cartilage
The Removal of Heavy Metals
It is important to remove heavy metals especially mercury which is the most toxic non radioactive element in existence.
Refer to charts below for details and effects which show baseline urine provocation and the provocation after taking 15 bottles of DETOXMAX PLUS™
DETOXMAX PLUS™ Elimination of Mercury: Baseline Urine Challenge
Oral 500 mg DMSA +, 3.0 gm I.V. Disodium EDTA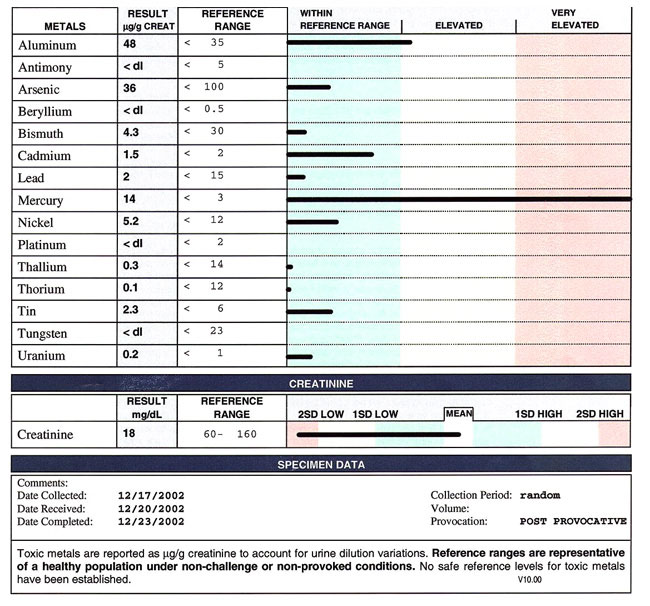 After 15 Bottles DETOXMAX PLUS™ | Urine Provocation Challenge
Oral 500 mg DMSA +, 3.0 gm I.V. Disodium EDTA
DETOXMAX PLUS™ | Baseline Packed Red Blood Cell (PRBC) Heavy Metal Assessment

After 11 Bottles DETOXMAX PLUS™ over 9 months | Repeat PRBC Assessment

DETOXMAX PLUS™ | Essential Phospholipids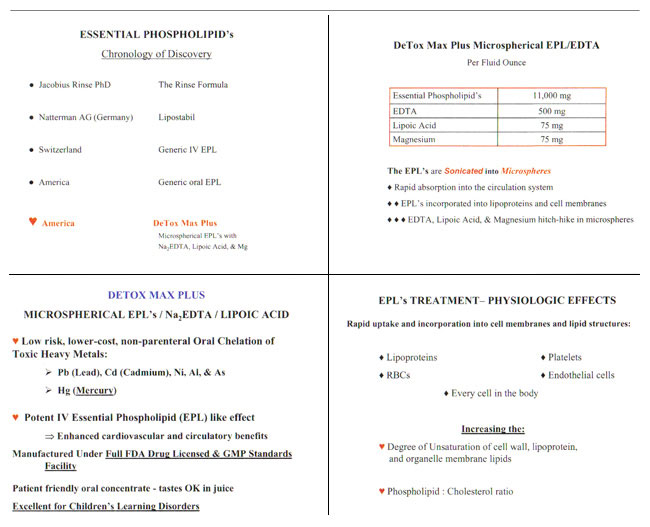 DetoxMax PLUS™  is the only product available in the world that incorporates two beneficial cardiovascular substances in a unique microsphere encapsulation delivery system taken orally, which not only reduces significant side effects, but can benefit those patients with the following conditions: Cardiovascular disease, Parkinson, Cancer (all types), Diabetes, Hepatitis C, Diabetic Neuropathy, Auto immune diseases, Autism, ALS, ADD, MS, ADHD, Alzheimers, ODD (Oppositional Defiant Disorder) and Dementia.
"This statement has not been evaluated by the Food and Drug Administration. This product is not intended to diagnosis, treat, cure or prevent any disease."
The following book is available discussing DetoxMax Plus and Chelations. Contact us to order.
Reverse Heart Disease Now
by Dr. Stephen Sinatra and Dr. James Roberts
Head Office - Canada
Agri-Growth International Inc.
18024 - 107 Avenue
Edmonton, Alberta
T5S 2J5
CANADA
Phone: 780-484-0102
Fax: 780-484-1632
Monday - Friday 9am - 4pm
Contact us for more information!