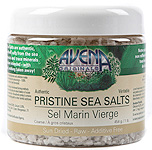 Pristine Sea Salts®
Natural Sun-Dried, Raw, Additive-Free Sea Salt
Many salts are dry and heavily refined, important components removed.
Pristine Sea Salts are what real, true salt is supposed to be. If table salt had never been invented, this is all you ever would have seen – and loved – with none of the harmful side effects associated with common refined white table salt.
Pristine Sea Salts® are literally living salts.
Treat yourself to the benefits of real salt as made by nature—not the common table-salt which is the chemical "sodium chloride". Remember, a traditional salt-restricted diet is actually a restriction of the chemical "sodium chloride", not a restriction of the good (and required) salt that is in harmony with the natural salinity of the human body
Features
Pristine Sea Salt® contains approximately 82 elements and minerals that buffer sodium chloride and balance hydrochloric acid
Pristine Sea Salt® does not have to be "fortified" with replacement iodine or other minerals because it retains the natural moisture and has a perfect balance of essential trace minerals and gases
Pristine Sea Salt® is excellent as an aid to digestion and for those with high blood pressure
After you have tasted Pristine Sea Salts, you will never again want any other salt!
Head Office - Canada
Agri-Growth International Inc.
18024 - 107 Avenue
Edmonton, Alberta
T5S 2J5
CANADA
Phone: 780-484-0102
Fax: 780-484-1632
Monday - Friday 9am - 4pm
Contact us for more information!